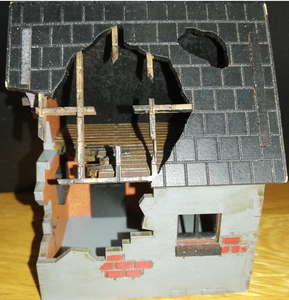 This incredibly detailed house with battle damage is perfect for any setting. Mortars and bombs have knocked out openings for infantry to take advantage of cover with plenty of firing positions.
Roof removed easily for gameplay and storage.
Supplied unpainted, unassembled, and requires gluing. 3mm MDF 
This file design is sold under license from Ravenloth Designs.
Other Ruined Terrain that pairs with this set:
Buy all as set
Two-Story Ruined Building 
Ruined house (this set)
Ruined two floor factory
Two-Story Ruined Building